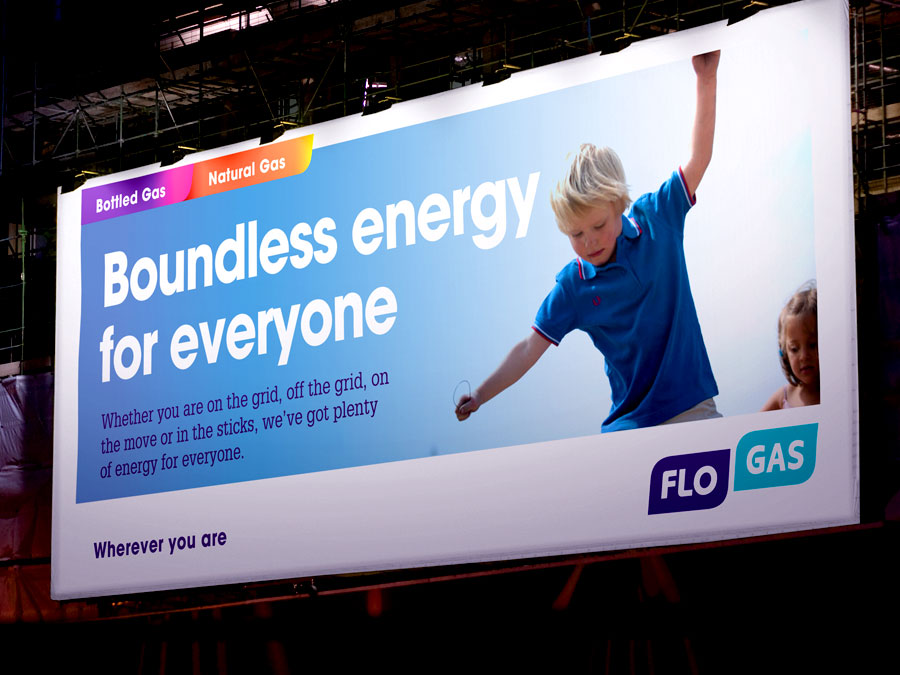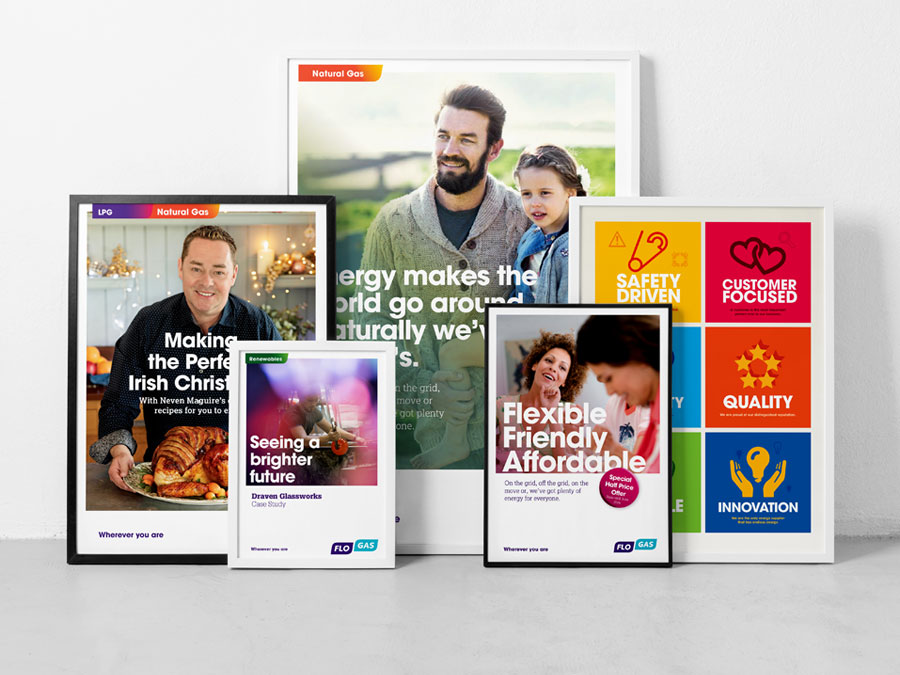 We work with brands at all stages of their lives, from start ups to the well established. We revive, we rejuvenate, we redirect, we create, we rollout but it can be truly great to work with a brand on more than one of those stages, to keep growing and elevating the brand and finding new ways to delight, unite and bring it to life. We have been working with Flogas for over three years now, what started out as a small brand review has grown into a much richer relationship with many rewarding outputs along the way.
Initially Flogas asked us to review their brand guidelines and provide recommendations of what they could do raise their brand profile. What we uncovered was a comprehensive manual that was very much operational with lots of rules and regulations on logo size and placement almost nothing about who they were, what they stood for and most vitally what they should communicate. We decided that the most pragmatic and cost effective approach to move forward was to retain the existing logo, but support it with an understanding of their purpose, a sense of their character and a richer set of assets to bring it to life.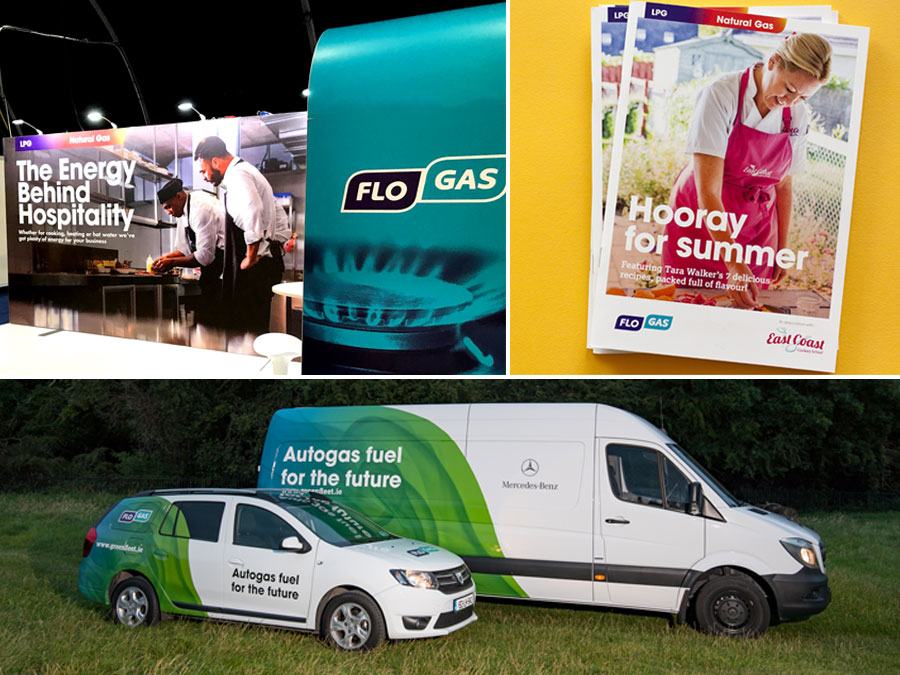 As an organisation, Flogas are entirely customer centric in all that they do, they speak and act with human warmth and a have a down to earth approach that we've come to know and love. In the beginning, they were ambitious but it was tempered by an affection for those they served and the communities they worked in. We uncovered that Flogas could serve anyone in Ireland, whether they  were on or off the gas network, they had a solution. They worked with both b2b and b2c customers, rural and urban and they often tailored solutions to fit. This knowledge underpinned the brand purpose we created 'Wherever you are'. Wherever someone was in life, in business or in the country, Flogas had the perfect energy solution for them. We then created a human tone of voice characterised by being warm, human and engaging, visual assets that clarified their product offering and brought it to life as simply as possible. All brand assets that could flex and grow with them  and stand the test of time.
To initiate the process, we applied our new thinking and system to some small applications and in truth we haven't stopped. So successful has our partnership been that we have created a myriad of communications from Advertising to Autogas, from Exhibition and Event design to Employee Engagement. The real benefit of having developed such a long-standing relationship is that new opportunities arise and rather than a brand being applied we have a brand constantly evolving and telling its story with more and more confidence each time.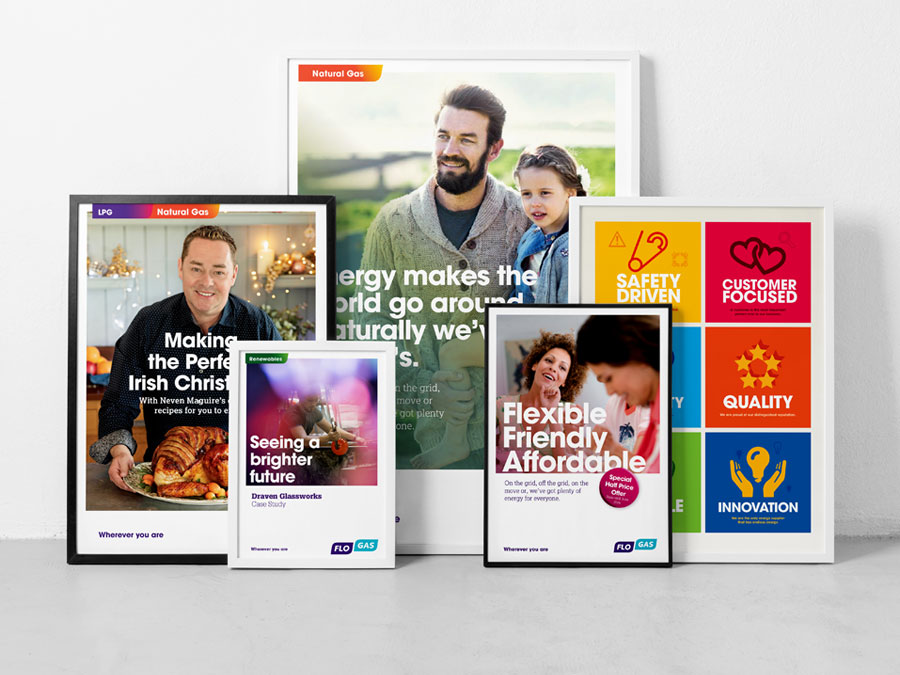 A simple example of this is how their approach to event sponsorship has transformed. Flogas are regular participants in events such as 'Taste of Dublin' and the 'Maritime Food Festival'. How do you build a stronger relationship between an energy business and a food event? By demonstrating the product in action, rather than have a range of gas cylinders on show. Top chefs now give food demonstrations and people can now take away a Flogas recipe booklet, full of beautifully shot food and easy to follow guidance. This shows not just a product, nor just what it can do, but why you might want it. These ideas come from having that close relationship with both the brand itself but also the people behind it. It means you can all make these leaps because both trust and understanding are fully established with the whole team. This is just one small example in amongst a myriad of activities, but the combined effect is that of a brand that now resonates with its audience and unlocks huge opportunities for itself.
To date we have created a brand platform, expanded visual assets, a system for both product and employee engagement, Autogas branding, bespoke livery, case studies both printed and digital, event and exhibition design, sponsorship collateral and advertising for print and digital to name but a few. Along the way we have told the story of a brand with real character and its one we're excited to keep building and elevating as they continually expand into new markets.