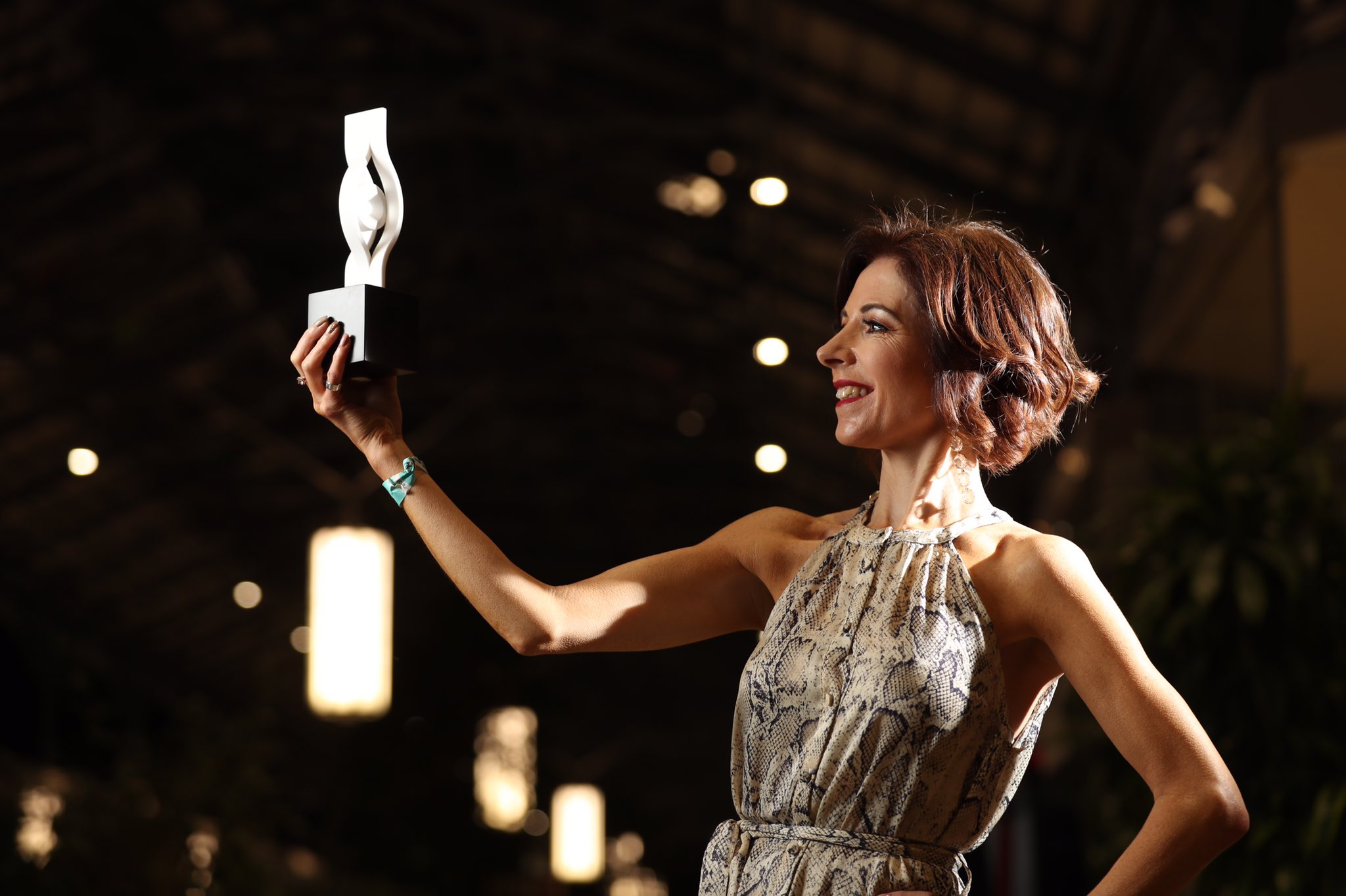 At Alkamee, we always believe our greatest achievement is helping our clients achieve business success. Ultimately our brand experiences needs to not only meet and match a client's goals but go beyond all expectations. Our recent rebrand of King Koil is no exception to this mantra, the primary goal was always to achieve our clients ambitious target of securing its pre-eminent place in the marketplace. King Koil has always been Ireland's number one premium bed brand and we wanted to continue and build upon this rich foundation. We set out to create a bed brand that truly excites and inspires buyers and also engages with today's consumer, this it is already doing, having already made quite a splash in the marketplace. We are now proud to announce that King Koil has achieved an Irish Design Oscar in winning the Irish Design Institute's top prize for branding, we believe this also validates our clients courage and our conviction on the brave new route taken.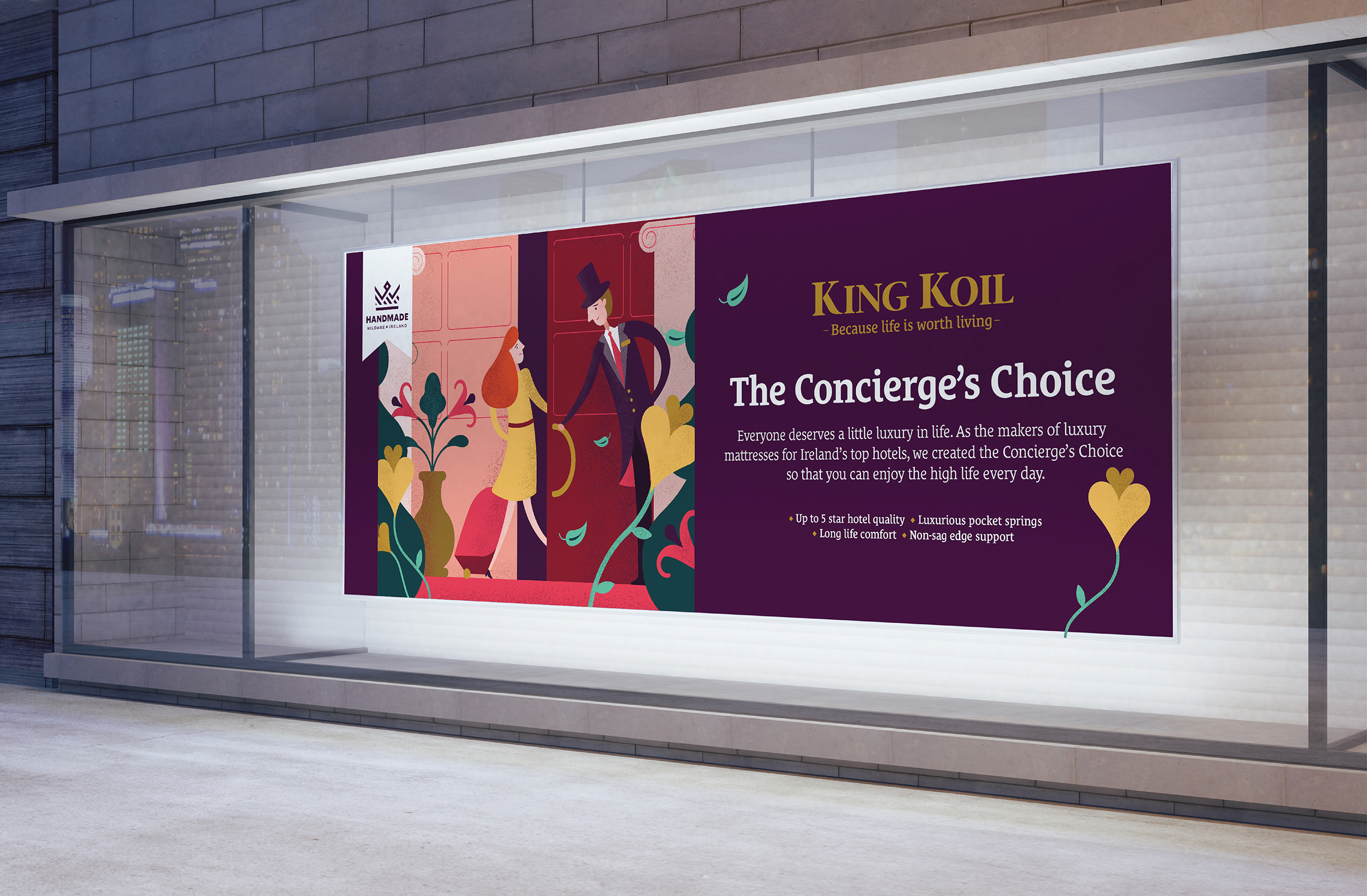 King Koil is a multinational franchise with all the complications that can often entail, manufacturing techniques, product designs, target markets and brand associations differed from country to country, as did the brand look and feel. Our challenge was to adopt and tweak the logotype but build on the sentiment that King Koil has built within the Irish Market, to bring that to life and it wrap it in meaning.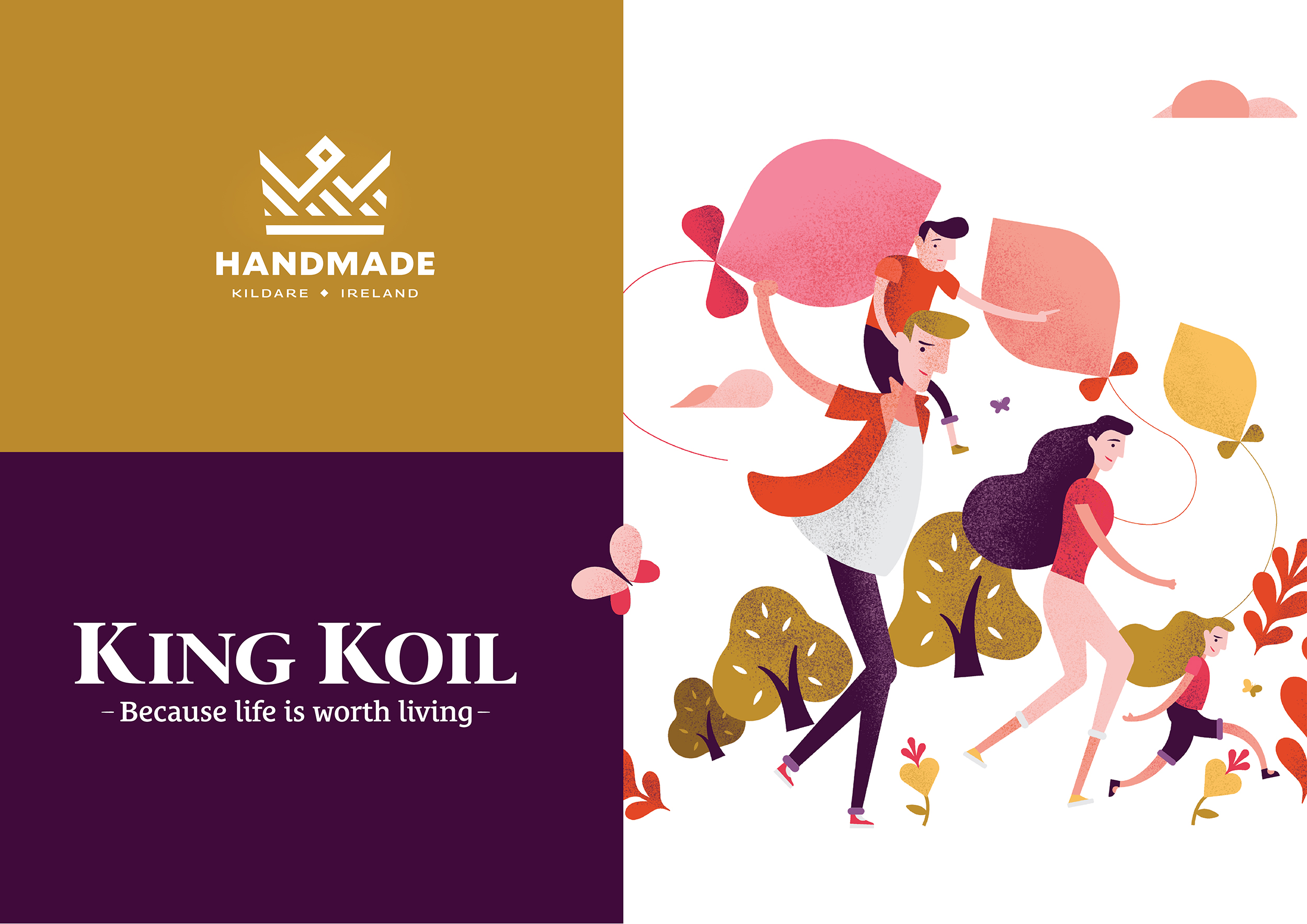 A further challenge was to imbue the brand with warmth, personality and distinction in a sector where everyone looks the same, where all imagery is indistinct and bland and where opportunities to communicate are limited. Our final challenge was to help them clarify and simplify their masterbrand offering balanced against their vast range offering. 
King Koil are the dominant suppliers to the luxury hotel trade and the bed is an affordable piece of everyday luxury, people bought it for that little bit of personal pleasure. We exployed the line "because life is worth living" to point to both the luxury and also because a great nights sleep sets you up for a great day. We explored an illustrative approach and subsequently built a masterbrand visual style for King Koil based on quality of life and great shared moments, we didn't want to show people asleep but point to even greater benefits.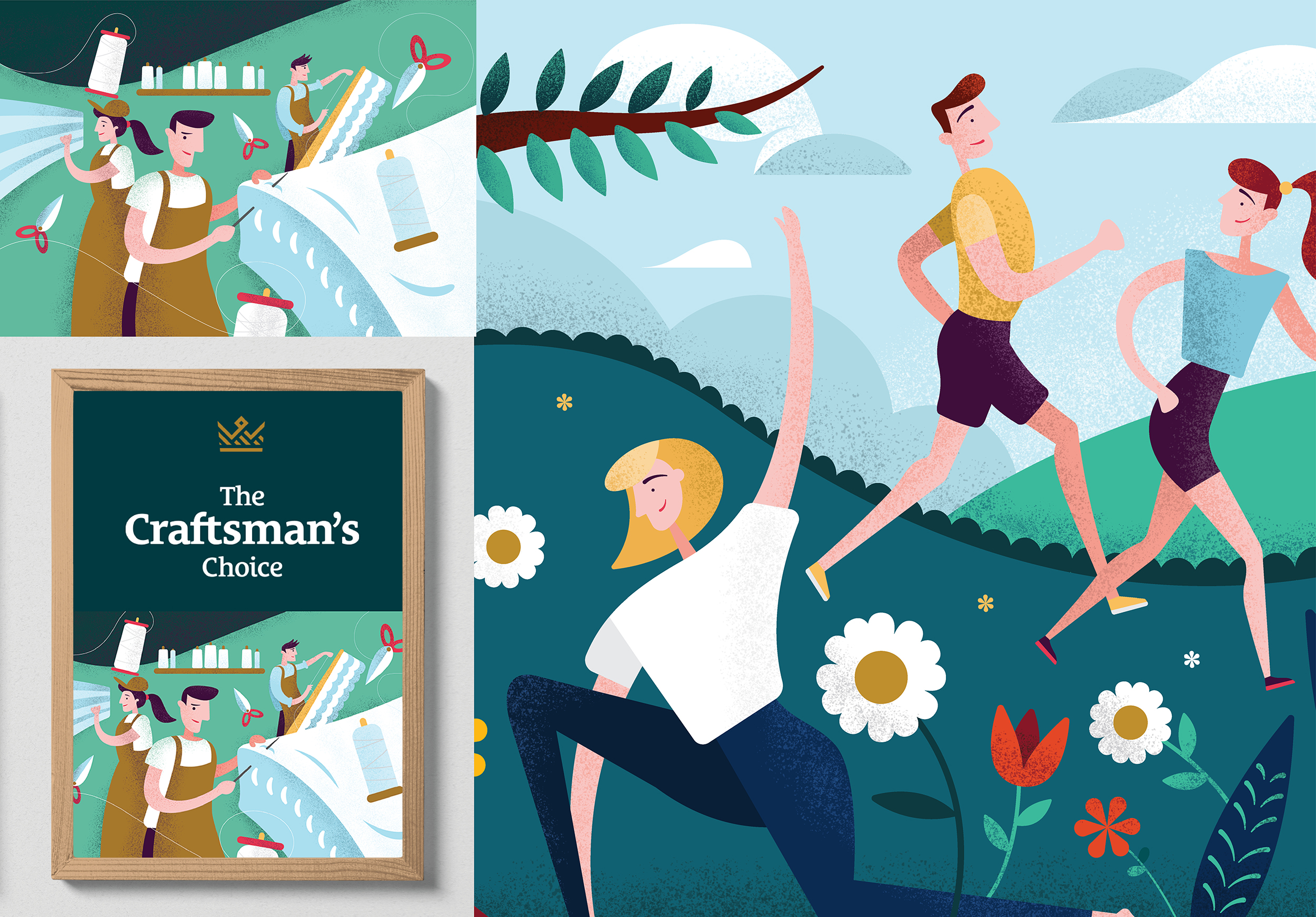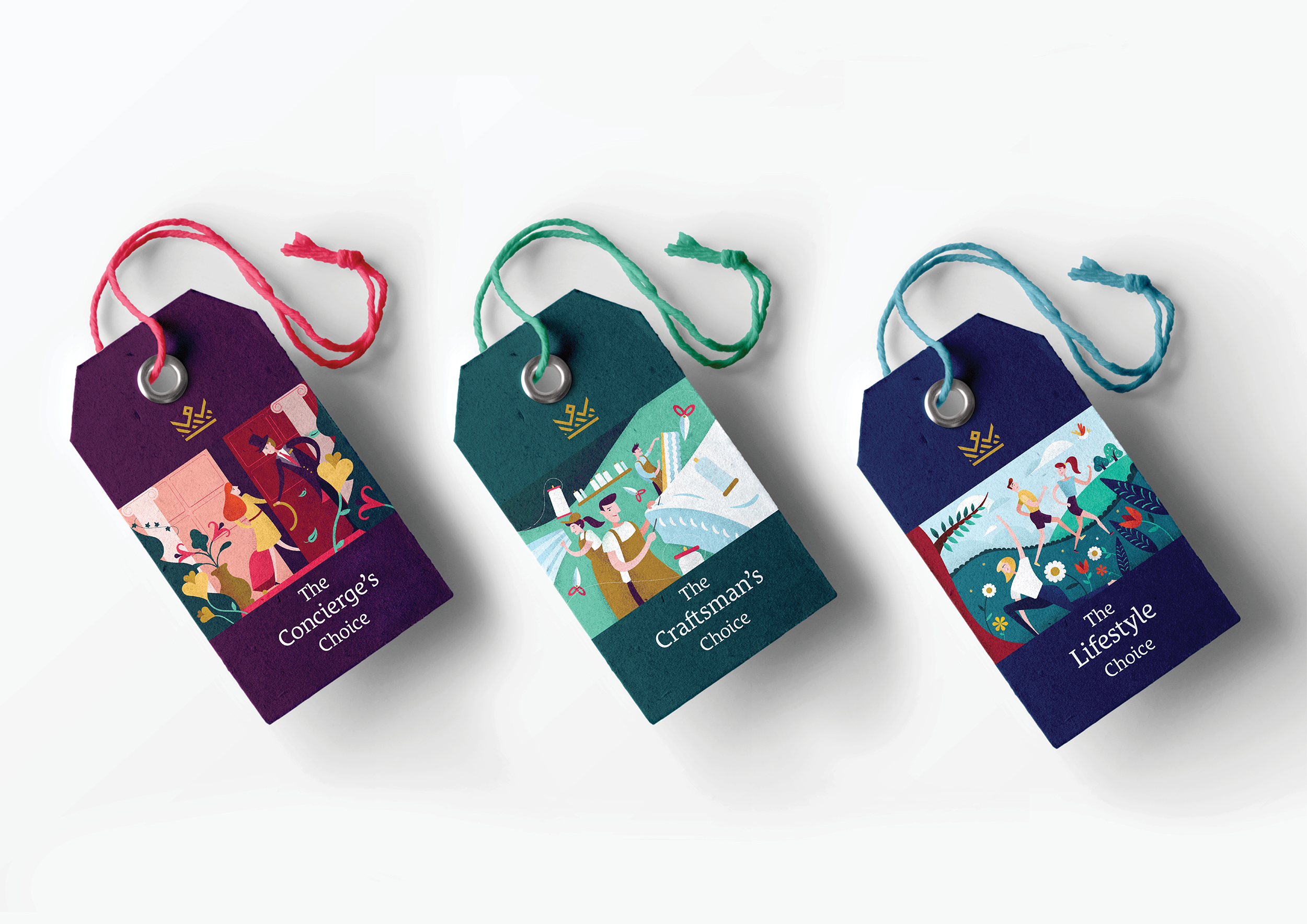 We worked hard with the manufacturing team to simplify the multitude of confusing products into three core product areas, The Lifestyle Choice: where products with back support and health associations are gathered, The Concierge's Choice: where the luxury beds from the hotel range are found and finally The Craftsman's Choice: where products filled with all natural fillings are gathered. We created range illustrations to help clarify these offerings.
Finally we created a crown motif that we could use as our quality symbol and further reinforce the handmade and made in Ireland quality of our brand. The kit of parts are designed to be used simply, masterbrand is colour on white, ranges are aligned against a colour, beyond this the brand is completely flexible, warm, friendly, personable and above all totally unique in the category.
We are delighted with the end product, a richer brand, living vibrant and it shows you that a rebrand isn't about the logo, it's about language, colour, imagery and attitude, now that's worth celebrating.